In our Pet & Tack Shop we offer a large range of products for a wide variety of small animals & pets as well as horse feed (deliveries available) and other equine equipment and tack!
We have an SQP (AMTRA Suitably Qualified Person) on site who is able to sell flea & worming treatments for both dogs and cats as well horse wormers. Our SQP is on hand to offer pet health advice and can provide a horse worming programme if required. We can also do worm egg counts for horses and ponies.
We stock:
Dog & Cat flea & worming treatments

Horse wormers

Our own branded dog & cat food

Dog & cat accessories (toys, treats, collars, leads, etc)

Dog & cat beds, crates & carriers

Personalised engraved pet ID tags

All major horse feeds

Horse accessories (shampoos, sprays, licks, feed nets, etc)

Stable equipment (rakes, shovels, shavings, etc)

Tack (head collars, lead ropes, etc)
Why not pop in to have a look or ring 01942 671215 option 2 for more details about specific products, and if we don't stock the product you're looking for – we can get it!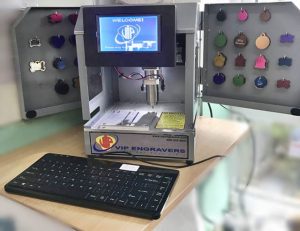 Personalised  pet ID tags available. Engraved with our new top of the range VIP
Engraver Machine. Can be ordered via email to [email protected] to pick up in store or free postage. Prices start from just £5!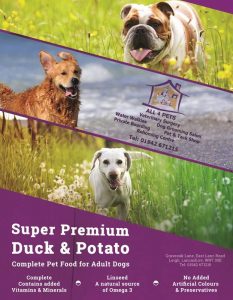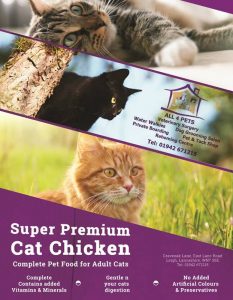 Why not try our premium branded food?
No artificial colours, hypoallergenic, contains
vitamins and minerals…..a complete
diet for your dog!
Available in small, medium and large sized biscuits, in a range of flavours and Puppy & Senior versions.